Hearing Aids
Neurosensory provides the broadest range of hearing aids to suit your individual needs, lifestyle and budget.
Independent Advice
We are independent of hearing aid manufacturers, so can fit all brands and types of devices.
This means we can recommend the best-fit solution to maximise your hearing gains without bias.
Solutions Focussed
We don't pay our audiologists sales commissions like other clinics.
You will not be pressured into a more expensive brand/ product just to hit a sales quota.
Free, No Obligation Trial
Experience aids in your own environment.
Take them home for a trial, with no upfront payment or commitment.
Satisfaction Guarantee
We stand behind all the services we deliver and devices we fit.
If you have any concerns we will do our utmost to remedy the situation. We also offer a 60 day return/ exchange period.
Financial Support
We provide the option for simple monthly interest free repayment plans.
Benefit from your hearing aids sooner, taking some pressure off your budget.
Free Government Progams
Eligible Pension and DVA recipients have access to free testing services and hearing aid products as part of the Hearing Services Program.
Neurosensory is an approved provider in this program.
Our Hearing Aid Trial
What is a hearing aid trial?
This is an opportunity for you to experience wearing the latest hearing aids for 1 week in your own environment.  The purpose is to determine if you will gain benefit in the situations where you are having difficulty hearing.  These might include conversations at home, family gatherings, meetings, clubs, work or watching TV.
There are no strings attached; it is free and there is no obligation to purchase hearing aids at the end.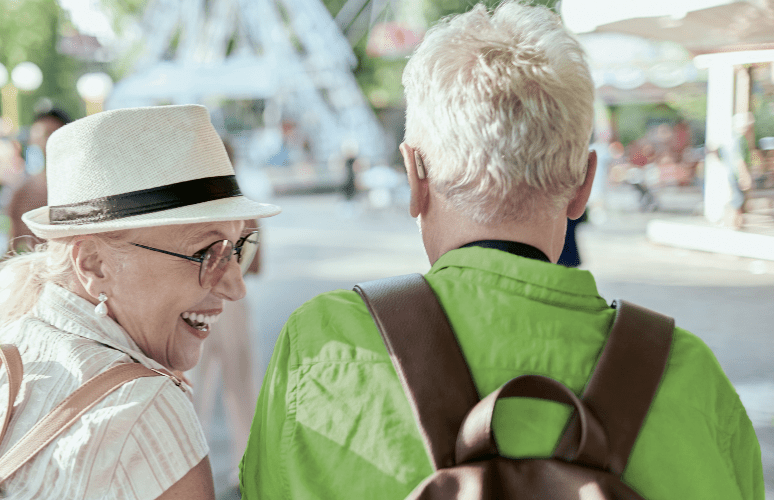 What our clients think
I thought the trial was very worthwhile. I was amazed by the technology and also how comfortable they felt. I could hardly feel them in my ears and my kids didn't even notice them.
Although they helped me a lot with the TV and at work, I don't think I am quite ready to make the leap yet and my Audiologist was fine with this. I have an appointment in a year to review my hearing. All in all, a great experience.
Peter (Accountant)
I was very nervous about hearing aids particularly as my mother didn't have much success with them. However, during the trial I was amazed at how easy they were to manage and the incredible difference they made to my life. I could finally converse with ease and didn't have to turn the TV volume up.
I realised hearing aids had come a long way in the last 10 years and I was very comfortable in proceeding with them after the trial. The audiologist discussed the different options and how each would fit into my lifestyle. The hearing aids that were fitted have given me a new lease on life.
Jenny (Retiree)
Hearing Aids We Recommend at Neurosensory
There are a number of different brands of hearing aids and each have their strengths and weaknesses. Some manufacturers specialise in hearing aids for people with a severe loss whilst others have perfected the art of making discreet invisible devices. Other manufacturers produce aids that are ideally suited to adults with a noise induced hearing loss.
At Neurosensory we are not affiliated or owned by any hearing aid manufacturers. Hence our audiologists can recommend the hearing aids that are best suited to your unique needs, budget and lifestyle.
We recognise that this is an important decision, and to remove the risk, we provide you with a 60 day period to either exchange your hearing aids, or return them altogether.
Hearing Aids 101 - How do they actually work?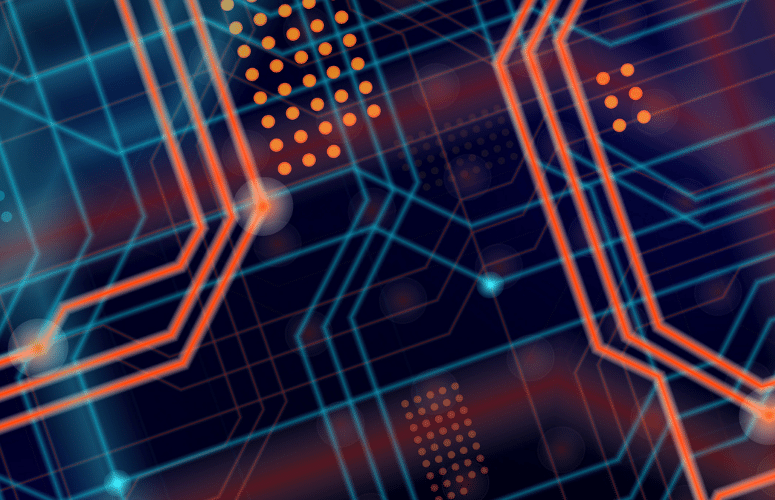 A hearing aid is not just a sound amplifier but a highly sophisticated device similar to a powerful computer.
It has 3 basic components: a microphone, a loudspeaker and a processor (computer chip).
The microphone picks up the sound and transmits it to the processor. The processor amplifies and modifies the sound (eg. removing some of the background noise) and transmits it to the loudspeaker where it is sent into the ear.
The processor is programmed by the audiologist to suit your hearing loss and needs. It performs many functions beyond amplifying the signal including automatic volume regulation, noise reduction and feedback suppression. So there is no longer a need to fiddle with a volume control or put up with annoying whistling sounds.
There are three main types of hearing aids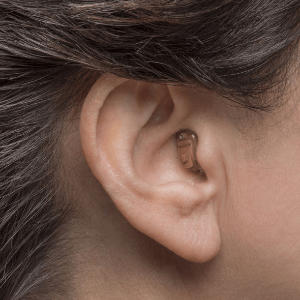 Custom
Discreet hearing aid designed to fit completely in your ear.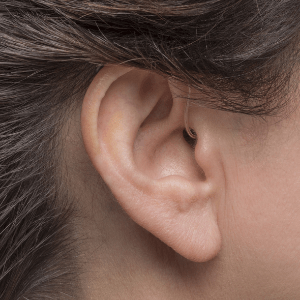 Receiver in the canal (RIC)
The most popular type of hearing aid. An ear piece (virtually unnoticeable) sits behind the ear and a small soft tip sits inside the ear canal without blocking it.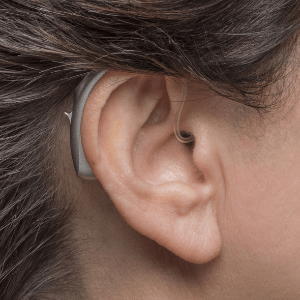 Behind the ear hearing aid
Hooks over the top of the ear and rests behind the ear. A tube connects the hearing aid to a custom ear piece that fits in the ear canal. Some have a 'slim tube' which is quite discreet.
There are five levels or price points for hearing aids
Our hearing aids are available at 5 levels – Basic, Essential, Standard, Advanced and Premium.
All the hearing aids work well for conversation in quiet, talking on the phone, and listening to music. In addition, the majority, with exception of the basic level, will connect to mobile phones for hands-free calls and listening to music/podcasts, have a compatible app and the option of a rechargeable battery.
High end hearing aids have more features and perform better in noisy, complex listening situations such as in cafes, restaurants, shopping centres and at social events.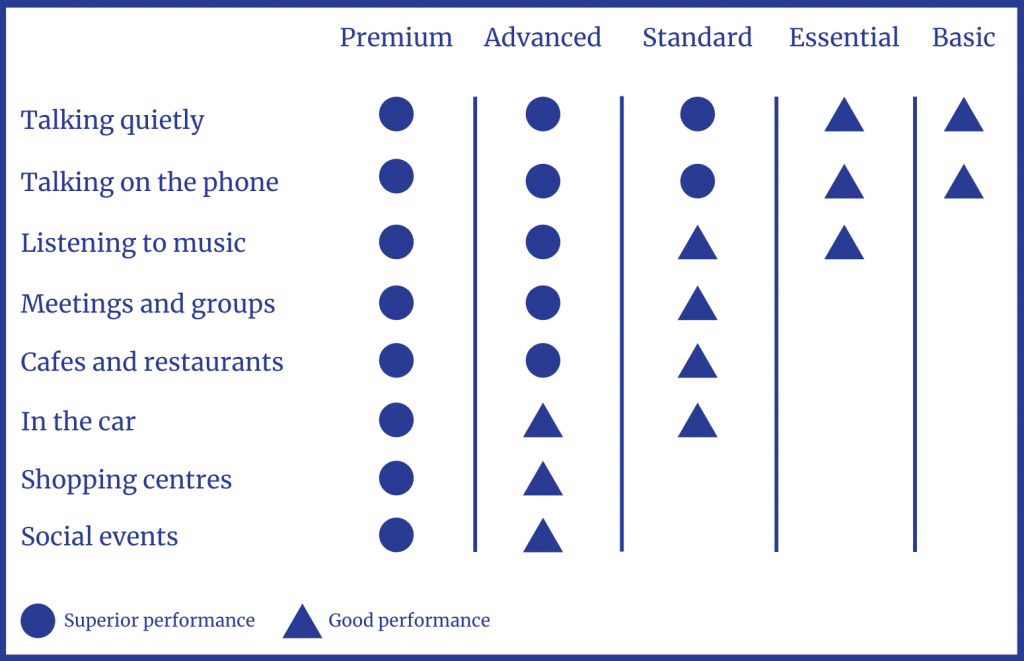 So, which hearing aid is the best for me?
This decision depends on your hearing loss and goals, needs, lifestyle and budget. Your Audiologist will make recommendations based on all of these factors.
5 reasons you should treat your hearing loss
If you are having trouble with your hearing, here are 5 reasons as to why you should do something about it.
What's New?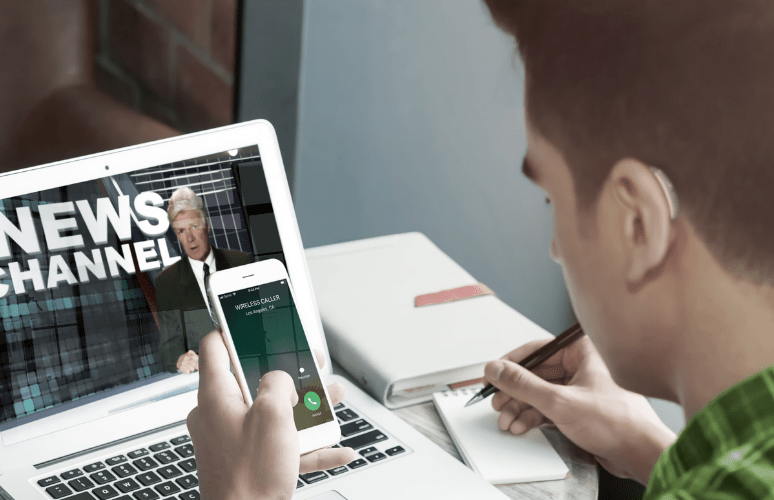 Connect directly to your mobile phone
Modern hearing aids allow hands-free phone and video calls. The phone signal is streamed directly to both hearing aids providing clarity and ease of use. Music, podcasts, radio, TV and audiobooks can also be streamed.
Improved performance in noisy situations
Modern hearing aids are mini computers – They provide clear speech and improved hearing in noisy environments using sophisticated noise reduction technology. In addition, they automatically adapt to the situation the speaker is in by turning on different listening features and microphones.